How would you like some gorgeous Christmas tags for Free ......



Aren't they just gorgeous ... and this is just the first three !!!!!
Designer Julie Walton worked her magic and came up with these...all for YOU! (And me!) And there are MORE. Eight total. Some are tags you could easily use in your scrapbooking...others are To/From Tags for your holiday gift-giving. All are beautiful. 
Because the tags are made with Webster's pages digital collections, they coordinate perfectly with Websters' embellishments. So you can print them out and use your stash to create mini works of art for Christmas this year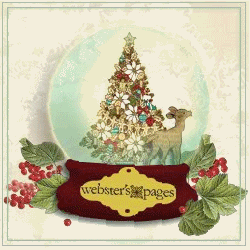 You can go to the Webster's Pages Website and find our Freebies under the Digi Designs section or click on THIS LINK and download your very own free tags for Christmas. 
Here is what I did with these gorgeous tags ....
My favourite tag using Brandin's Winter Wings.  **Sigh** that little owl just melts my heart.

So enjoy these and your week.
I think its starting to look alot like Christmas ....
Steph xo